About
Solar Protection, Security, and Decorative Film
Evolution Window Films is about offering people an opportunity to feel safer and more comfortable at work and at home.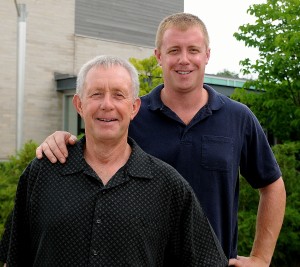 Evolution Window Films is a family owned business serving the Niagara and Greater Hamilton Area in Ontario, Canada.
Sam Bellhouse oversees all installations, and meets with customers on a regular basis. His father, Gary Bellhouse, supports in areas of business development, sales and marketing. Sam and Gary both believe in the importance of spending the time to discuss the features and benefits of the various films, making sure each person receives the right product for their needs.
We don't just sell Evolution Window Films, we live it.
As residents of Niagara with a home on the shore of Lake Erie, they understand the sun protective benefits that window film offers.
My wife is an artist, and one of the benefits is that we can leave the curtains open in the summer, knowing that her artwork has protection from the sun's harmful UV rays. – Gary Bellhouse
As business owners, they understand the commercial benefits: Save money, as well as supporting employee health, safety and comfort. The benefits of energy savings, security window film options, and temperature control that this product offers to residential and commercial buildings is the heart behind Evolution Window Films and their success.
MISSION STATEMENT
Our mission is to support the physical and financial well-being of our customers by providing them with the application of quality window film and related products to the windows of their homes and / businesses. We strive for exceptional service, so that our customers can benefit from the potential increased cost savings, security and comfort that we can offer.
Evolution Window Films is all about YOU! Providing real value to the world and doing it in a sensible way. We are motivated by our customers' creativity and enthusiasm to reduce energy costs, improve safety and security, protect from ultraviolet rays, reduce glare and beautify interior spaces.
ACCREDITATION by the International Window Film Association