Blog
This building had the challenge and benefit of many windows. Having high end product in the store, they needed to secure the windows to protect against potential break-ins and theft.*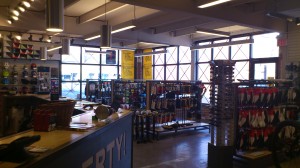 Located in downtown St. Catharines, Ontario (Niagara region), Liberty! Bicycles is a mid- to high-end bicycle specialty store serving the area since 1992. Liberty! Bicycles offers – Bicycles, bicycle related product, service and expertise to urban, road and mountain bike customers. In 2010 Liberty! Bicycles moved into a heritage building on Bond Street. It was a building that needed a lot of work, but Kurt Gwisdek, the owner, set to work restoring the building. The end result is an open concept, well designed, 2-floor space that Liberty! Bicycles now calls home.
Gary and Sam Bellhouse from Evolution window film suggested the SAFETYSHIELD 1500, which offers 450 pounds per square inch of break strength. Once installed by their team of experts, this product would drastically lower the risk of forced entry through the windows and into their store. The film also offers protection from the ultra-violet with some solar energy resistance, offering customers and staff the added comfort and protection from the sun.
Kurt agreed and SAFETYSHIELD 1500 was installed on all the windows and doors.
Evolution Window Films and their staff are fantastic and our windows look great!" said Kurt, "Windows are a vulnerable place and bicycles are a valuable commodity. Installation of security window film was part of our security plan, and it contributes greatly to our peace of mind knowing that our bicycles have this extra layer of protection.
Madico SAFETYSHIELD 15OO
15ml thickness
450 pounds per square inch of break strength
32,000 PSI Average
99% Ultraviolet Light Rejected
15% Total Solar Energy Rejected
*Bars were required by their insurance company, but they didn't want it to have a 'fortress' look to it. With the addition of the window film, they were able to put a more visually appealing bar design on the window.