Blog
Henry Schein offices receive privacy window film.
Henry Schein, is the world's largest provider of health care products and services to office-based dental, animal health and medical practitioners. Since 1932, Henry Schein has grown from a small pharmacy in Queens, New York, to a Fortune 500 company with a presence in 27 countries, including Canada.
Tasteful, Branded & Functional – Window Film was the choice for Henry Schein offices here in Niagara, Canada.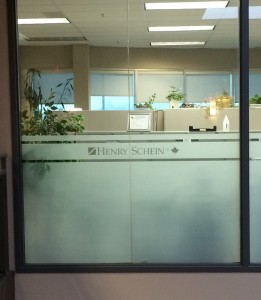 The Niagara-on-the-Lake business offices on the second floor have ceiling-to-floor windows looking out to the main entrance atrium below. Off the atrium are board rooms where guests and employees could look up to see the fish bowl office on the second floor. They needed to give the employees more privacy, as well as give the office a more pleasing look by hiding the view of the many chords and desks that every office has. One thing they didn't want to give up was the open feeling that these large windows offered.
The solution was decorative translucent window film on the lower half of the windows. By only applying film to the lower half, the employees in the second floor offices could still see out, but now the view from the first floor was limited giving them the privacy and improved appearance that was needed. The window film gives the look of frosted glass at a fraction of the price of etched glass. The Henry Schein logo was tastefully branded across the top part of each panel with an added nice touch of a maple leaf positioned next to it – a proud symbol for our Canadians. Classy.
See more samples of decorative film in our PORTFOLIO . Contact our team to learn more about decorative solutions for your office.