Blog
Property managers, building owners, and business managers are using window graphics in their toolkits to help create a safe and secure environment for their tenants, guests, and employees.
IMPROVE BUILDING SAFETY AND SECURITY WITH WINDOW GRAPHICS
Research shows that natural light has health and wellness benefits, so Architects and Interior Designers are designing office spaces, education centres, and healthcare facilities to incorporate more light, and that means more windows and glass. Window graphics are an ideal solution to help mitigate some of the safety and security concerns these glass walls and doors create. Also, where typical emergency management signage needed to be applied to a solid wall or door, window film can be applied directly to the glass.
Window graphics are an ideal solution because they are fully customized and a non-permanent application. They can be designed in any combination of visual elements and text, any size or colour, and then applied to windows or any flat glass including doors, walls or partitions.
Create an Emergency Escape Route
Hospitals, hotels, and large buildings are required to meet certain safety standards, and that includes an emergency escape route. The best way is to prepare to respond to an emergency before it happens. Very few people can think clearly and logically in a crisis, so offering visual displays to help with an emergency escape route will help people find the pre-planned escape route. The SKYLON tower in Niagara Falls used window graphics on their doors to help direct guests and staff to the correct exit door. + Read More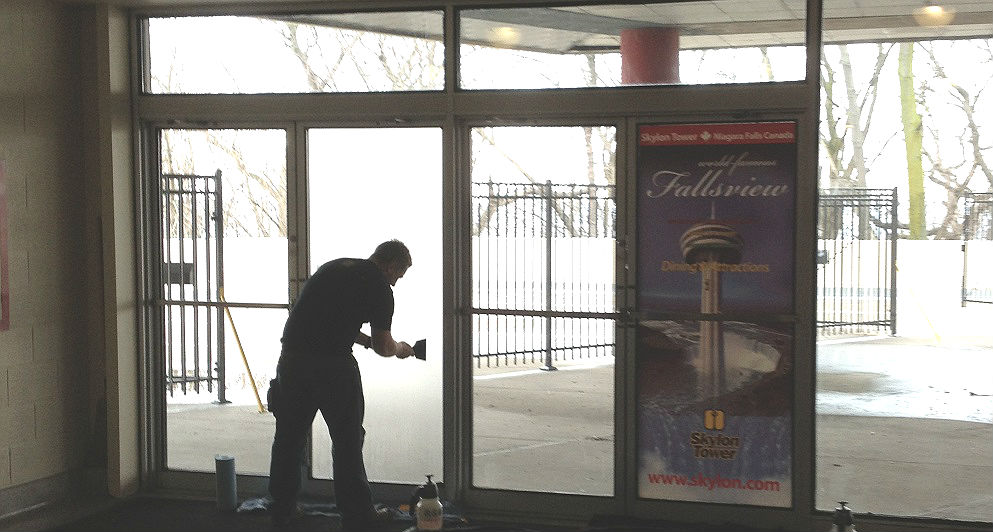 Define Glass Walls & Doors
The advantage of exchanging solid meeting room, reception areas, and office walls for glass ones, means that these rooms now feel more spacious. Rather than total open space, having glass walls and doors still has the ability for people to close a door for privacy and security. Unfortunately, a plain glass door or wall is hard to see and people have a tendency to walk right into the glass. Ouch! Drapes or blinds are cumbersome and destroy the open feeling of the room. A simple window graphic added to a glass wall, or a frosted application on a door, will show that there is a solid object and still allow the natural light to pass through. Creating a custom graphic with the company logo enhanced the interior design of this office, as well as helped prevent people from walking into the glass door. + Read More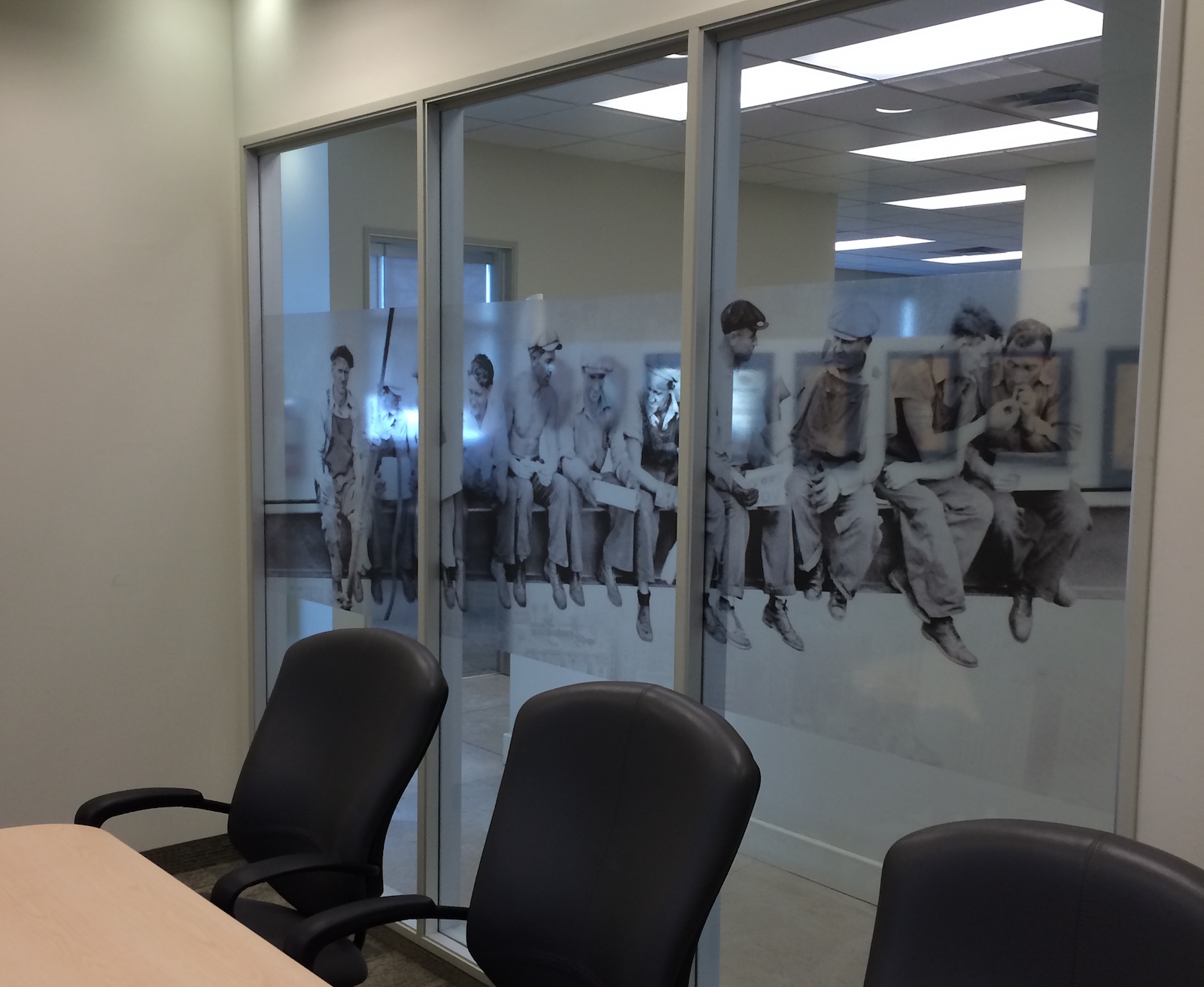 Office Privacy
A second floor office with a glass wall to a lower atrium offers natural light, but it also let every person walking into the building see inside this private office. Glass walls at a bank give these very small offices a feeling of spaciousness, but they lack a sense of privacy. These clients chose window film graphics to solve this privacy concern. A custom, branded look was created; giving staff and customers privacy without compromising the feeling of space.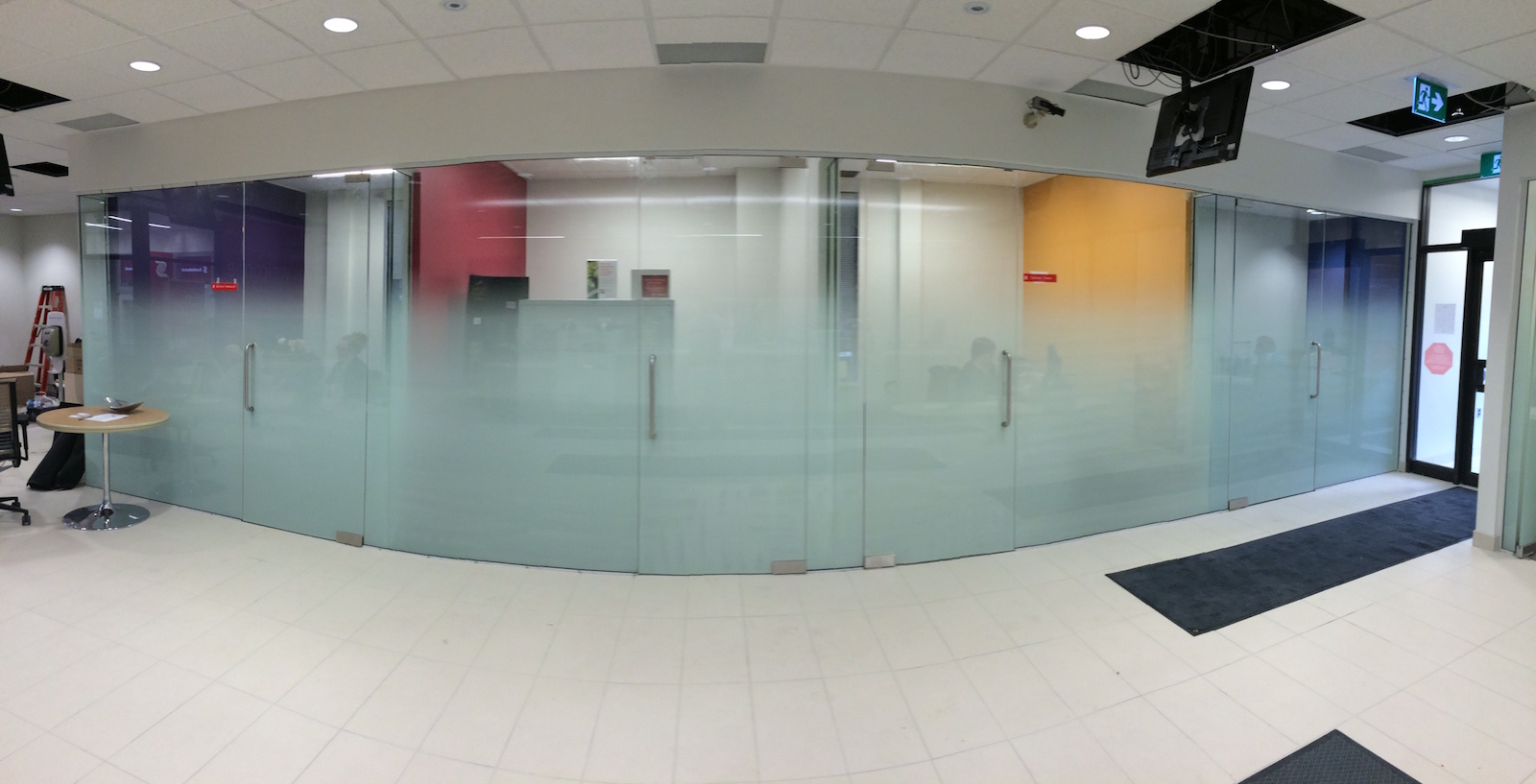 + Henry Schein, Niagara-on-the-Lake